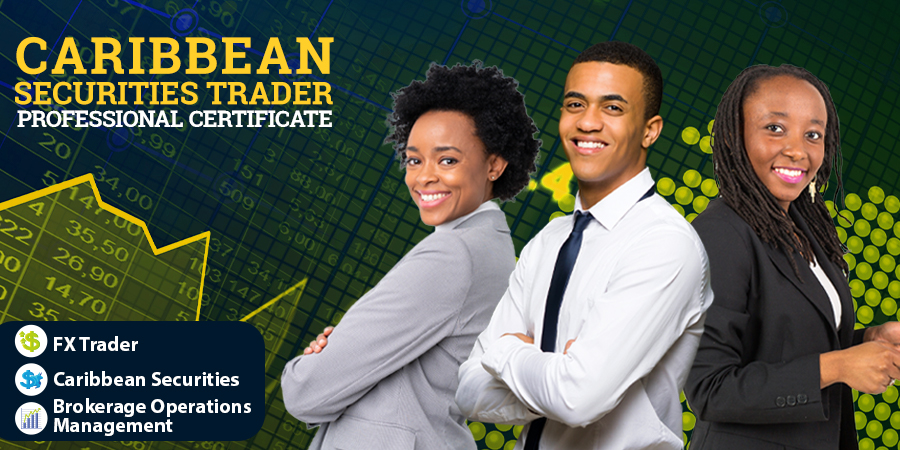 In the competitive financial services market, we currently operate in, employees who are committed to their personal development are the ones who exceed all expectations. The Caribbean Securities Trader program provides the foundational financial services credential that top employers in the Financial Services sector demand.

The Caribbean Securities trader program includes the minimum regulatory training requirement to perform the wider financial Services positions.

WHAT SKILLS WILL YOU DEVELOP FROM TAKING THE CARIBBEAN SECURITIES TRADER PROGRAM?
A better understanding of the Caribbean financial services landscape

Greater knowledge of various financial instruments such as equities, FX, managed products, structured products, derivatives and more.
The ability to accurately assess company, industry and market performance.
Deeper knowledge of industry standards and codes of ethics.
Skills, knowledge and tools to better serve your clients.
Meet proficiency requirements to deal in Caribbean Securities
Tools to better profile clients' needs, goals, and objectives.
Strategies to assess the merits and risks of financial tools in relation to each client.
Improved soft skills such as client communication, relationship management.
A better understanding of financial processes, and the ins-and-outs of financial law.
Ways to build a loyal customer base through superior service.
WHAT CAREERS DOES TAKING THE CARIBBEAN SECURITIES TRADER LEAD TO?
Financial Planner
Investment Representative
Investment Advisor
Bank or Trust Company Officer
Investment Advisor
Portfolio Manager
Account Manager
The program consists of three courses:
2. FX Trader

3. Brokerage Operations Management
Program Cost: Tuition $120,000.00 +GCT : Registration $2,500.00 Exam Fee $25,000.00.
Click Continue to enroll.